Overview
ggstatsplot is an extension of ggplot2 package for creating graphics with details from statistical tests included in the plots themselves and targeted primarily at behavioral sciences community to provide a one-line code to produce information-rich plots. In a typical exploratory data analysis workflow, data visualization and statistical modeling are two different phases: visualization informs modeling, and modeling in its turn can suggest a different visualization method, and so on and so forth. The central idea of ggstatsplot is simple: combine these two phases into one in the form of graphics with statistical details, which makes data exploration simpler and faster.
Currently, it supports only the most common types of statistical tests: parametric, nonparametric, robust, and bayesian versions of t-test/anova, correlation analyses, contingency table analysis, and regression analyses.
It, therefore, produces a limited kinds of plots for the supported analyses:
violin plots (for comparisons between groups or conditions),
pie charts and bar charts (for categorical data),
scatterplots (for correlations between two variables),
correlation matrices (for correlations between multiple variables),
histograms and dot plots/charts (for hypothesis about distributions),
dot-and-whisker plots (for regression models).
In addition to these basic plots, ggstatsplot also provides grouped_ versions for most functions that makes it easy to repeat the same analysis for any grouping variable.
Future versions will include other types of statistical analyses and plots as well.
Statistical reporting
For all statistical tests reported in the plots, the default template abides by the APA gold standard for statistical reporting. For example, here are results from Yuen's test for trimmed means (robust t-test):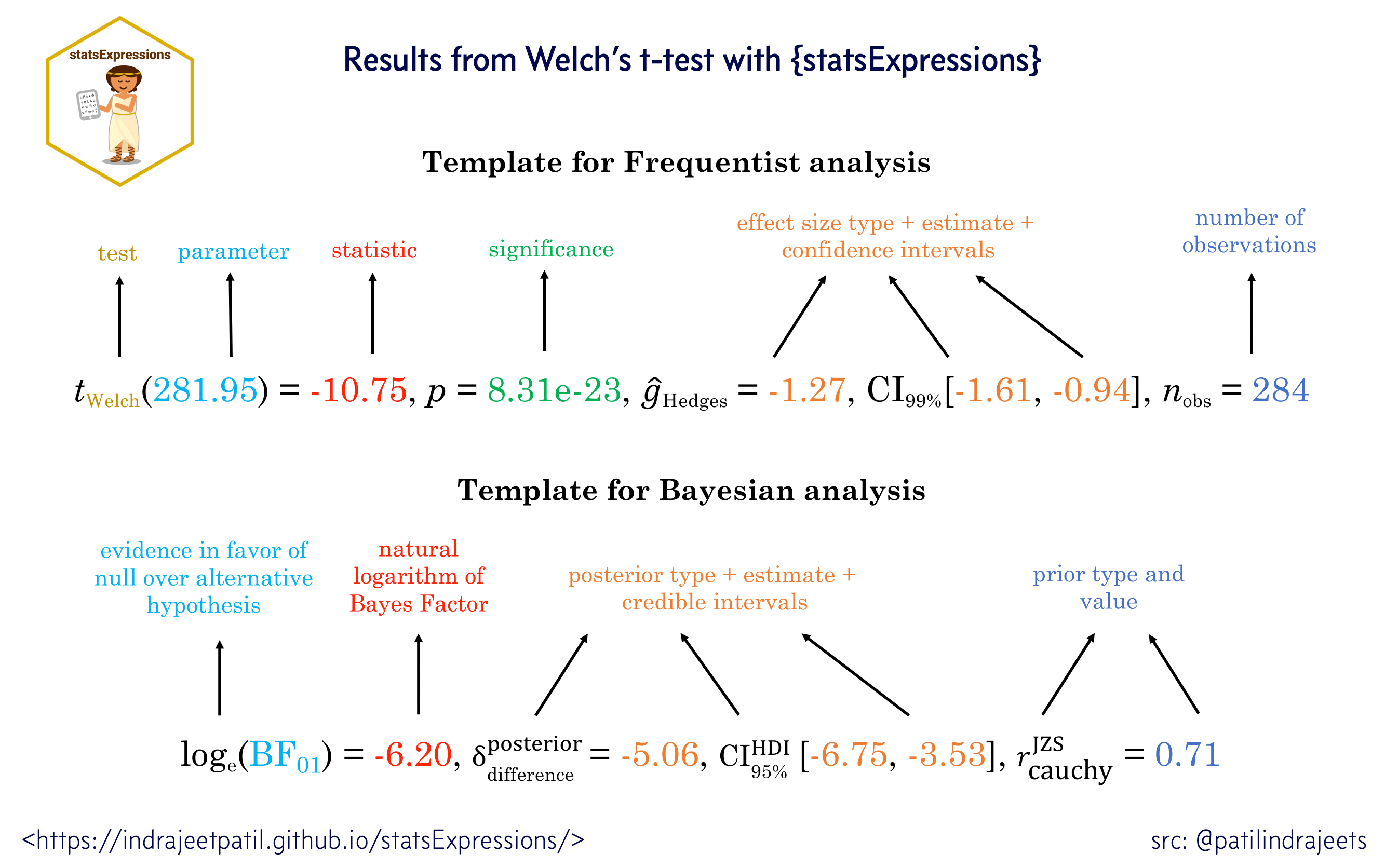 Summary of supported statistical analyses
The table below summarizes all the different types of analyses currently supported in this package-
| | | | | | |
| --- | --- | --- | --- | --- | --- |
| ggbetweenstats | Between group/condition comparisons | Yes | Yes | Yes | Yes |
| ggwithinstats | Within group/condition comparisons | Yes | Yes | Yes | Yes |
| gghistostats, ggdotplotstats | Distribution of a numeric variable | Yes | Yes | Yes | Yes |
| ggcorrmat | Correlation matrix | Yes | Yes | Yes | No |
| ggscatterstats | Correlation between two variables | Yes | Yes | Yes | Yes |
| ggpiestats, ggbarstats | Association between categorical variables | Yes | No | No | Yes |
| ggpiestats | Proportion test | No | No | No | No |
| ggcoefstats | Regression model coefficients | Yes | No | Yes | Yes |
Effect sizes and confidence intervals available
ggstatsplot provides a wide range of effect sizes and their confidence intervals.
| | | | | |
| --- | --- | --- | --- | --- |
| one-sample t-test | Yes | Yes | Yes | No |
| two-sample t-test (between) | Yes | Yes | Yes | No |
| two-sample t-test (within) | Yes | Yes | Yes | No |
| One-way ANOVA (between) | Yes | Yes | Yes | No |
| One-way ANOVA (within) | Yes | Yes | No | No |
| correlations | Yes | Yes | Yes | No |
| contingency table | Yes | NA | NA | No |
| goodness of fit | Yes | NA | NA | No |
| regression | Yes | Yes | Yes | No |
Installation
To get the latest, stable CRAN release (0.0.10):
Note: If you are on a linux machine, you will need to have OpenGL libraries installed (specifically, libx11, mesa and Mesa OpenGL Utility library - glu) for the dependency package rgl to work.
You can get the development version of the package from GitHub (0.0.10.9000). To see what new changes (and bug fixes) have been made to the package since the last release on CRAN, you can check the detailed log of changes here: https://indrajeetpatil.github.io/ggstatsplot/news/index.html
If you are in hurry and want to reduce the time of installation, prefer-
If time is not a constraint-
If you are not using the RStudio IDE and you get an error related to "pandoc" you will either need to remove the argument build_vignettes = TRUE (to avoid building the vignettes) or install pandoc. If you have the rmarkdown R package installed then you can check if you have pandoc by running the following in R:
Citation
If you want to cite this package in a scientific journal or in any other context, run the following code in your R console:
There is currently a publication in preparation corresponding to this package and the citation will be updated once it's published.
Documentation and Examples
To see the detailed documentation for each function in the stable CRAN version of the package, see:
To see the documentation relevant for the development version of the package, see the dedicated website for ggstatplot, which is updated after every new commit: https://indrajeetpatil.github.io/ggstatsplot/.
Contributing
I'm happy to receive bug reports, suggestions, questions, and (most of all) contributions to fix problems and add features. I personally prefer using the Github issues system over trying to reach out to me in other ways (personal e-mail, Twitter, etc.). Pull requests for contributions are encouraged.
Here are some simple ways in which you can contribute:
Read and correct any inconsistencies in the documentation

Raise issues about bugs or wanted features

Review code

Add new functionality (in the form of new plotting functions or helpers for preparing subtitles)
Please note that this project is released with a Contributor Code of Conduct. By participating in this project you agree to abide by its terms.